The Cook is a NPC in Lakeview Cabin IV. She is a chef cannibal and she is located in The Mansion.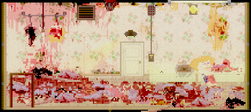 She is seen presumably pulling a hand of a dead person on the table. Her room( The Kitchen) is by far the messiest room in the entire Mansion. Everything is filled with body parts and there are heads hanging from the ceiling.
She isn't a difficult enemy, but you will have to walk over a trip wire to get to her.
You also have to walk by her for her to start moving around the room.
Ad blocker interference detected!
Wikia is a free-to-use site that makes money from advertising. We have a modified experience for viewers using ad blockers

Wikia is not accessible if you've made further modifications. Remove the custom ad blocker rule(s) and the page will load as expected.