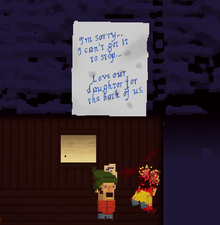 A paper taped to the wall of the shed next to the wife's corpse in Last Christmas. It reads " I cannot make it stop..." "Love our daughter for both of us." What it is, is unknown. "It" could be the baby crying or, going with the themes of Lakeview, it could be insanity or some demonic possession.
Ad blocker interference detected!
Wikia is a free-to-use site that makes money from advertising. We have a modified experience for viewers using ad blockers

Wikia is not accessible if you've made further modifications. Remove the custom ad blocker rule(s) and the page will load as expected.