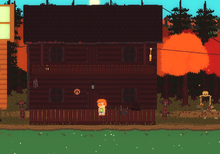 The two floored Cabin A is located in between the renovated building and the Kitchen. Outside is a rocking chair you can sit on and the radio. Directly right of Cabin A is the bell that calls the killer and the .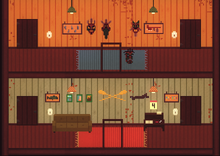 Inside is a living room and a hallway. The only thing of note is the calendar that can be torn down until day '13' and a tribal mask that has fallen off the wall. The upstairs hallway also has a door leading outside to the balcony where you can use the zip line. Not only used for a quick get away but also the zip line can knock the weather vane off the roof of the kitchen to deal a high amount of damage to the killers or playable characters.
In the first floor backroom is a room full of bunk-beds which you can hide under. On the floor there will be a small green note, which only ever needs to be picked up once, and a wooden box. Also if you've beaten Lakeview Cabin V, the Black Box will be located here too.
On the second floor backroom is an empty looking storage room. You can find the red Music Disc and the empty shotgun.